In one of our first blogs, we took a look at the worst free-throw shooters in history. In that post, we noted that NBA free-throw percentages had been constant at about 75 percent since 1958 – meaning the league average remained dismally low for about 58 years. In 2017, we've seen some progress.
Since our post in 2013, the NBA average has risen by about 4 percent, putting the league free-throw shooting average now at 79 percent. Still, this seems low for players whose job it is to score points – especially the easy ones.
While we could certainly reflect on the Wilt Chamberlain's of the league, we'd like to highlight some players who beat the 75 percent slump. We're going to take a look at some of the best free-throw shooters in NBA history.
If you're like a lot of people, one of the first names to pop in your head is the infamous Rick Barry, who shot all of his free-throws underhanded or "granny-style." While he may have looked odd, Barry makes the list at number four of best free-throw shooters ever.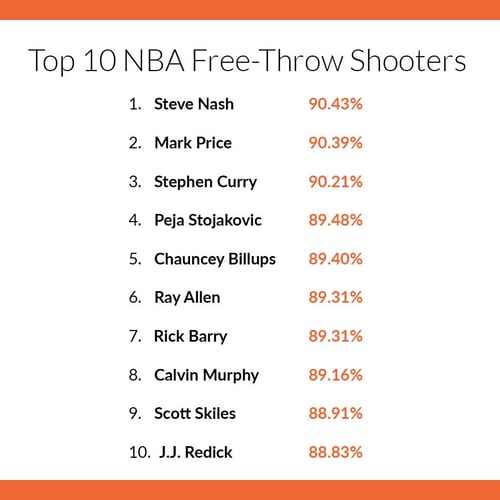 Although the granny-style shot draws criticism for its lack of style, the law of physics works in its favor. As Noah Basketball has shown, the optimal angle for ball entry into the hoop is a 45-degree angle. Free throw shots made underhanded have a much better chance of entering the rim at a 45-degree angle, meaning they are more likely to go in.
Also not a surprise, Steve Nash comes in as the best free-throw shooter of all time, averaging 90 percent at the line. One lesser-known fact about Nash's free throw shooting is that he's also the most successful free-throw shooter between shot one and shot two.
On average, players shoot an average of 5 percent worse on their first free-throw than they do their second. Five percent is a pretty huge gap when it comes to makes and misses. Nash, on the other hand, averaged 90 percent on his first free-throw and 91 percent on his second free-throw.
Many people have tried to figure out why, and the answer comes down to muscle memory. "When you practice something and stick to a routine, it takes out all the variables," said Nash in an interview on his shooting routine. Nash often took a practice shot without the ball before shooting any of his free-throws, which tapped into his short-term muscle memory. Nash's mastery of muscle memory and shooting routine make him the most successful free throw shooter of all time.
Next, we've got a modern-day star – Steph Curry. Curry comes in at number three on the list, and the only active player to make the top five. As Curry said in an interview on his free-throw shooting, "If you repeat the same form over and over again, you're going to be a better shooter. So whatever you do, try to repeat it."
Along with repetition, Curry focuses on the angle of his shot. The arc of his free-throw shot is about three degrees higher than the average 6'3 player, meaning his shot has a better chance of going in each time. The combination of muscle memory and a high arc make Curry's free-throw shot one of the best.
Other top-ten mentions are Mark Price, Peja Stojakovic, Chauncey Billips, Ray Allen, Calvin Murphy, Scott Skiles and J.J. Redick.
While Noah benefits shooting from all over the court, the system can be particularly helpful in improving players' free-throw shooting percentages. As we've seen from the best free-throw shooters of all time, a successful free-throw shot comes down to two main factors: arc and repetition.
That's where Noah comes in. As UVA's Coach Tony Bennett says, "Noah gives my players audio feedback every time they shoot. It teaches them to focus on getting the right arc and getting a repeatable stroke."
Many players using the Noah system have drastically improved their free-throw shooting percentages over the years, including a Duke club basketball player with a 97 percent free-throw shooting average, a high school in Wisconsin whose team percentage improved from 53 percent to 73 percent at the line, and the Troy University Trojans, who saw an 8.3 percent change in team free-throw shooting after practicing on the Noah system.
Interested to see how the Noah system can help your shot? Sign up to attend one of our free webinars hosted weekly or request a free shooting clinic at your gym from one of our top Noah representatives.