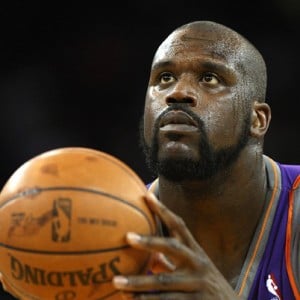 In one of our first blogs we stated that NBA free-throw shooting percentages have been constant at about 75 percent since 1958. This seems low considering that we're talking about professionals who are paid well to score points. Whatever the reason—mental block, confidence issues, or shooting techniques—the fact remains it's been 55 years since free-throw percentages improved considerably. For every Mark Price, there's a Shaquille O'Neal.
We thought it would be fun to examine a few NBA players who have the worst free-throw percentages of all-time.
Notorious for his bad free-throw shooting, O'Neal finished his career with a 52.7 percent average from the line. His free-throw shooting was so bad other teams often used "Hack-a-Shaq" as a tactic to combat O'Neal's dominance inside. O'Neal responded by saying he would make free throws when it mattered most. Most teams didn't believe him and tested the 7-footer with intentional fouls for years. Shaq makes our list because his missed more than 5,300 free throws in his career. If he had made half of those 5,300 misses, his career scoring average would have jumped from 23.7 points per game to 25.9 points.
Next on our list may come to a surprise to some. Many people forget just how bad Wilt "The Stilt" Chamberlain was at free-throw shooting due to his overall dominance. It's astonishing to think the same man who scored 100 points in a single game is one who ended his career with a 51.1 percent FT shooting percentage. Wilt averaged 30.1 points a game during his career. Similar to Shaq, Wilt missed 5,805 free throws. If he had shot the NBA average of 75 percent, he would have scored about 2,850 more points and improved his scoring rate to 32.8 points per games.
Andris Biedrins is the next player on our list with a career free-throw percentage of 51.1. Biedrins was so bad that his former coach, Don Nelson, wanted him to convert to a seldom used technique – The Granny Shot. Although it would have been fun to watch him shoot Granny Style, Andris never found his "niche" at the line. He averaged less than 0.5 points per game last season in 53 appearances.
Chris Dudley was another player known for his size and unfortunately, his bad free-throw shooting. Chris Dudley ended his career with a whopping 45.8 FT shooting percentage and is the one of the few NBA players in history to have missed more free throws than he made. Dudley also holds the NBA record for the most consecutive free throw misses at 13. And get this—he also holds the NBA record for most free throw missed in a single trip to the line. In 1989, Dudley missed five consecutive free throws after his opponents committed three lane violations.
Probably not a huge shocker, but the last player on our list is Ben Wallace, one of the worst free-throw shooters in NBA history—statistically speaking. Wallace has a career 41.4 percent free-throw average. Wallace never shot better than 50 percent in a season during his 16-year career and had a low of 30 percent during his rookie season. Wallace earned the NBA Defensive Player of the Year award four times, a record he shares with Dikembe Mutombo. Wallace has more assists (1,437), blocks (2,137), steals (1,369) and personal fouls (2,078) than he does free-throws made (1,109).
All the players above are or were shooting far below the average NBA player. These numbers have undeniably pulled down the average NBA free-throw percentage but there are still numerous players who just can't seem to get their hands around this free shot. With the NCAA only averaging around 69 percent, it doesn't seem like any new NBA recruits will help increase this percentage either. Gary Boren, Dallas Mavericks Free-Throw Coach, once said that there would be a day when every NBA team would have a Noah System in their gym. When that day comes maybe we will start seeing an end to these atrocious percentages.