PRESS RELEASE: June 9, 2016
ATHENS, Ala.--(BUSINESS WIRE)--Implemented this past season by four professional basketball teams and two college basketball teams, Noah Basketball's three-dimensional Noahlytics data service officially has been released to the public.
Noahlytics is a data service that tracks players' shots from anywhere on the basketball court, providing instant feedback on how the player should adjust their shot. The system uses the latest computer-vision technology and proprietary algorithms to track important data points such as where the shot originated from, whether or not the shot scored, entry angle, shot depth, ball velocity and left-right position of the ball. With a sensor mounted 13 feet above the rim, Noahlytics captures the position of the ball 30 times per second, analyzes the trajectory and the ball position within the rim, allowing players to pinpoint how to increase their shooting percentages.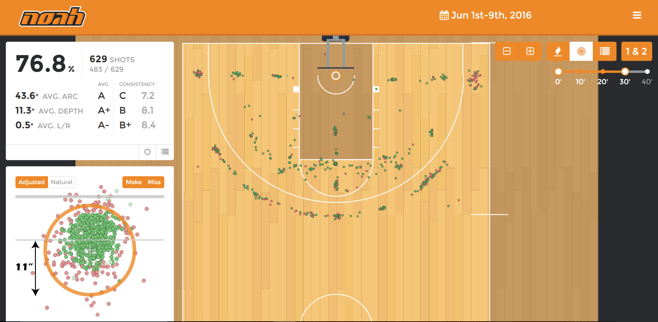 Kirk Lacob, Warriors assistant general manager, says the team is just beginning to put the technology to work. "If somebody is not hitting shots, you can get a workout in using Noah and try to figure out: Are they just having a bad week or is there something technically wrong with the shot?" said Lacob.
Through its user-friendly cloud-based platform, Noahlytics provides real-time data and feedback to help players adapt and correct shots, building the muscle memory to improve accuracy and consistency. Data is shared through the Noahlytics website or mobile application and can be filtered by shot length, player name, court placement, makes and misses. This data, in combination with charts that integrate with Noahlytics' unique grading system, provide tangible diagnoses for what a player needs to do to improve his/her shooting.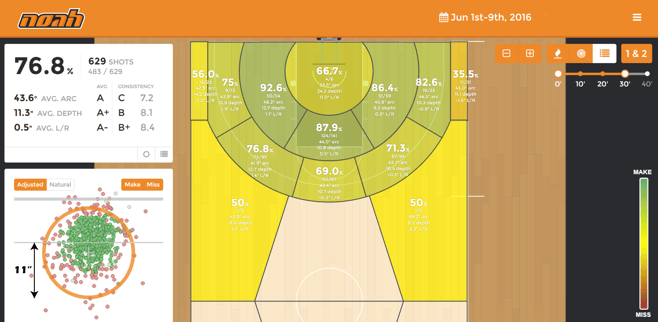 "How many times can a coach tell a player to 'shoot out of the phone booth and over the Ferris wheel' until they get it?" said Tony Bennett, college basketball coach. "You are also telling them their shot is flat without scientific proof. But it's impossible to dispute Noah because the proof is there, and the feedback is immediate. That's when the body starts to self-correct."
Noah products were developed to meet the need for a substantive, physics- and neuroscience-based method for players to make more shots. Armed with years of research and data from over one million shots from all levels of basketball, Noah Basketball CEO John Carter concluded that the makeup of a perfect shot consists of a 45-degree entry angle placed 11 inches past the front of the rim.
"Data is changing the way we think about sports," said Carter. "Precision and consistency have always been key when it comes to shooting, but the only measurement available was whether or not a shot scores. Now, we are able to leverage collected data to pinpoint why a shot scores or misses and what a player needs to do to improve. This type of data has never been available until now."
With 14 issued patents, Noah Basketball's products provide deep intellectual property protection for ball flight training, gaming and other areas. Prior to the launch of Noahlytics, its products consisted of two-dimensional systems that tracked straight shots, such as free throws or three-pointers from the top of the key.
About Noah Basketball
Noah Basketball is a data service provider that uses the latest computer-vision technology and proprietary algorithms to provide real-time data and feedback to improve shooting accuracy and consistency for professional, college, high school and amateur basketball teams. For more information, visit www.noahbasketball.com.