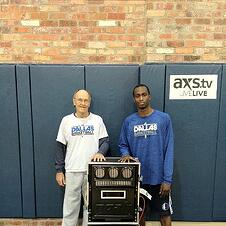 Free Throw Shooting Master
I enjoyed spending a day last week with Dallas Mavericks Free Throw Shooting Coach Gary Boren. I have known Gary for many years and have always admired the job he has done with the Mavericks. Surprisingly, he is the only Free Throw Shooting Coach in the NBA and has now been with the team for 13 seasons. Even though he continues to work with lots of new faces from one season to the next, the Mavericks have finished either 1st or 2nd in the NBA in Free Throw Shooting Percentage 9 of his 16 seasons with the team. And during his tenure, three of the Mavericks teams have finished in the top 10 Team Free Throw percentage of all time in NBA history. That is pretty heady stuff!
Mavericks player Rodrigue Beaubois (Roddy)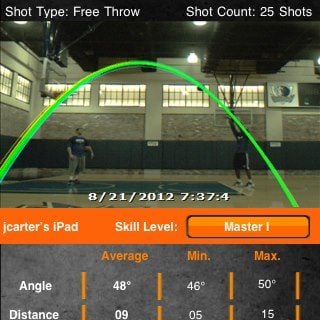 We had a good session with Mavericks backup point guard Roddy Beaubois during my visit. Roddy is a great shooter and has obviously worked hard to refine his shooting stroke. He was graded as a Master shooter by the Noah Basketball Shooting Aid - Attached is his Noah arc plot captured on my IPad. Even though his basketball shooting arc was very consistent, his shot depth was not quite as deep as it should be. He shot the ball with an average shot depth of 9 inches, which is dead center of the rim. We know from years of research that you want to shoot the ball 11" past the front of the hoop to maximize your shooting percentage. He was not hitting the back of the rim on any of his shots, which is a clear indicator of not shooting the ball deep enough in the basket. He fully understood what we were explaining to him and saw immediate improvement when we turned on the Noah shot depth feedback.
If you are interested on working on your Mechanics, I strongly recommend Coach Boren's shooting DVD. It can be ordered from his website. Proper shot mechanics coupled with Noah's patented feedback leads to "off the chart" basketball shooting improvement.
You can request one of Noah's Basketball Shooting Clinics to learn more on how you can improve your team's basketball shooting. Also visit our past blogs to learn more about basketball shooting.