"Noah puts the science behind the shooting. Noah breaks down the averages and allows you to decipher what you need to do as a shooter. That's key for me." - John Hellige
John Hellige wants you to know that Noah Instant works for coaches, too. Hellige coaches middle school basketball and is a varsity assistant at Holy Trinity Catholic in Fort Madison, Iowa.
He's also a Noah Power User.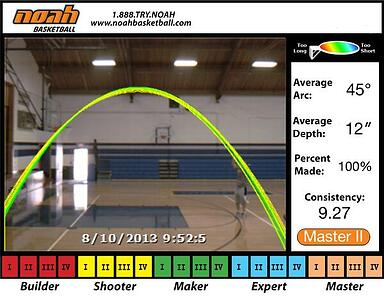 "I'll shoot a session and break down the statistics and see how much room I have to improve," Hellige said. "You don't need to be a serious player to benefit from the Noah Basketball Shooting System. I'm a 44-year-old guy who likes to play pickup ball."
Hellige is known in these parts of southeast Iowa as a good shooter back in the day. He averaged more than 20 points a game in his senior prep year at Fort Madison High School and scored 44 points in one game. He hit 57 three-pointers during that senior season. Hellige went on to play college ball at Southeastern Community College.
"No doubt about it, if I had Noah Instant when I was coming up, I would have been an even better shooter," Hellige said. "I look back now and wonder how I became a good shooter. I worked hard, and kind of stumbled into becoming one. I always had good form, but I don't know how I got it."
As of the end of March, Hellige had taken 7,713 shots on the Noah Instant. He has an 8.79 overall skill score average for an Expert IV ranking. His highest skill score of 9.39 (10-shot, three-pointer session) is good for a Master II level. He's also registered session scores of 9.27, 9.25 and 30 others over 9.0.
And for those who follow Noah Basketball on Facebook and social Twitter, you may know that Hellige won an iPad mini for taking the most shots over Christmas Break. The coach attempted 5,000 shots over the two-week period.
"For me, I'm a math guy by nature," Hellige said. "I like statistics. The Noah Instant when I first saw it was an easy sell."
A little more than a year ago, several Holy Trinity Catholic coaches returned from a state coaches meeting and told Hellige he should search for Noah on Google. He did and was instantly interested.
Hellige set up a basketball shooting clinic where 20 players and 40 observers attended. Within a couple weeks, the school placed an order for two Noah Instants.
"Noah puts the science behind the shooting," Hellige said. "Noah breaks down the averages and allows you to decipher what you need to do as a shooter. That's key for me. I also really like that it's linked to a handheld device, and you can analyze the data at any time."
Hellige has passed on his love for shooting to his son, Matt, who plays for the Holy Trinity Catholic sixth grade team. Matt has put in his fair share of time on the Noah Instant, having attempted 1,320 total shots. His 7.721 overall skill score average places him with a Maker III ranking. His highest skill score is 8.82 (10-shot, free th
row session), which gives him an Expert IV rating.
Matt raised his free throw average in games from 44 percent last season to 60 percent this season. It was no surprise that his point average jumped from 6 per game to 14 points per game.
"I'd say he's dramatically improved," Hellige said. "Sure, he's bigger and stronger and worked his butt off to improve. But a lot can be directly related to the Noah Shooting System. Matt shot a lot of free throws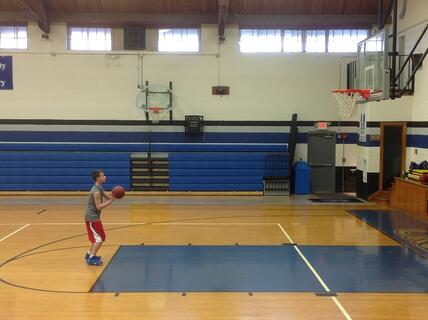 this season and it paid off."
Hellige said Matt really likes the Noah Community Website, where users can connect much like on Facebook and Twitter. Within the Noah Community, shooters can view their progress, session histories and see how they stack up against rivals or even nationally on the leaderboard.
Coaches can go to the Community Website and add players to their page and be able to view all of the team data in one place. Likewise, a parent can create an account on the website and connect to their kids so they too can view the data and track progress
"Matt loves it," Hellige said. "It's like he's in a video game. He can't wait to shoot on Noah and share it on the website and see how he ranks with other kids his age."
Coach Hellige's love for shooting may be only surpassed by his love for coaching, especially the middle school level. He feels that if players leave his teams being able to dribble with both hands, finish with both hands and play fundamental defense, then he's done his job. And if they can shoot with proper form and consistency, that's just icing.
"I think the best part is teaching kids the game that I love," said Hellige, who has coached at the middle school level for seven years. "To light a fire in them and then see them as juniors and seniors having success as individuals and at school. It's also pretty cool to see them doing something you taught them. That's why I'm in it."