Winamac High School improves 3-point shooting from 23 percent to 33 percent
"Every practice includes Noah in shooting drills, free throw breaks, and before and after practice."
There's something about Indiana basketball. It's the state that produced great shooters like Larry Bird, Oscar Robertson, Scott Skiles, Rick Mount and Damon Bailey.
"It used to be that everyone was taught the same way to shoot in Indiana," said Dan Bailey, assistant coach of Winamac High School in Pulaski County. "Everyone was taught the right way from footwork, to the correct starting and finishing position, to release and follow-through. But as the sport evolved, we've gotten away from correct shooting technique."
That's why when Coach Bailey saw the Noah for the first time four years ago, he realized the system was a unique tool that could bring back good shooting in Indiana.
"It was at the Indiana Basketball Coaches Association conference," said Bailey, who played his prep basketball in Rochester, Ind. "Noah did a 45-minute presentation and I was sold immediately. I'm a numbers guy. When they started throwing out numbers on how teams improved their shooting and how quickly, it was hard to argue Noah's success."
It took Bailey and the Winamac program a year and a half to circumvent the district's policy of no individual team fundraising. But Winamac basketball found a way. Players and coaches knocked on doors, they talked with folks in the community and invited Noah Basketball to visit for a free clinic.
"The thing many of us noticed was when our kids shot on Noah during the clinic, it didn't take 50 shots for them to adjust," Bailey said. "It happened immediately. One kid's first shot was at 40 degrees. Then his next was at 50. He kept adjusting until he was right around 45. His last five or six shots were at 45 degrees."
A Noah Instant arrived at Winamac High School last summer. Head coach Kyle Johnson instantly incorporated the system into his practices.
"Every practice includes Noah in shooting drills, free throw breaks, and before and after practice," Johnson said. "That little nudge throughout practice helps us continue to hit individual shooting skills while addressing all other individual skills in other stations."
The Warriors lost lots of interior punch from the previous season as four players 6-foot-4 or taller graduated. The 2012-13 team had one player taller than 6-2. So shooting a high percentage from outside the paint gave the Warriors a strength while hiding their interior weakness.
The Noah Instant didn't disappoint as Winamac joined a plethora of schools that have benefited from the system.
The Warriors jumped their 3-point shooting from 23 percent the previous season to 33 percent. Their free throw shooting improved 9 percent.
Coach Johnson and Coach Bailey like to track a statistic called points per shot (PPS). Every varsity player was better than 1.06 PPS. The team's minimum standard is 1.0. So Winamac varsity basketball achieved an important goal.
"Efficiency is important to us," Johnson said.
J.T. Garnett, a junior, made 33 of 76 3-pointers, which is good for 43 percent. He had a PPS of 1.18. Sophomore Adam Gruenig, who was moved from the JV close to midseason, hit 50 of 111 from behind the arc in 17 games. Gruenig had at least three 3-pointers in eight games. He finished with a PPS of 1.35. In his finest outing, Gruenig scored 19 points on 5 of 5 from behind the arc and 4 of 4 from the free throw line. He registered an astounding 3.8 PPS in the sectional playoff game.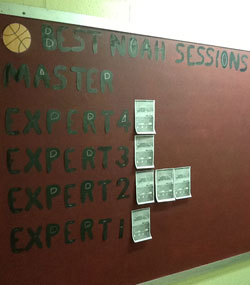 "In less than one year we have seen an increase in 3 point percentage and an overall increase in shooting," Johnson said. "Our players are becoming increasingly aware of form, arc, angles, and we are able to use Noah and video to fix bad habits gained throughout years of poor shooting. Noah works because the science doesn't lie. Within a 25-shot session a player can make improvements and they can make changes from shot-to-shot until they are dialed in."
On the day of the interview, Coach Bailey said eight middle school kids showed up for a 6:30 a.m. shooting session. He said earlier in the week, 14 players, ranging from fourth grade to ninth grade, came to practice early in the morning.
"The middle school kids have the fever," Bailey said. "You throw Noah in there, and they just love it. The parents love seeing their kids excited about getting better."
That's why Winamac invested in a second Noah Instant for its middle school.
"If we believe the Noah Instant is valuable to our high school guys, it would be stupid not to invest in our middle school kids," Bailey said.
And apparently, kids at Winamac can't get enough of the Noah Instant.
"When I heard NBA players used the Noah Instant, I knew it would improve my shot," said Koby Johnson, a sixth grade guard. "Everything made sense after shooting on the Noah just a couple of times. I started in the Maker 1-2 range, and now I can consistently get Expert 1. As a sixth grader, I feel comfortable shooting a 3-pointer without thinking about it."
"Noah has made me value working on my shot more," said Levi Schultz, a senior guard who is described as a slasher and defender. "I used to think my shot was fine, but Noah really opened my eyes to how much it could improve. And it did."
"I love to use the Noah Instant when my shot is off," said Derek Dotlich, a ninth grade point guard who likes to attack the basket. "It always helps me adjust, and it has made me a more confident shooter. This year, I had one of the best games in my life. I hit five 3-pointers and all eight of my free throws."
And it seems, even the coaches are getting in on the action.
"I have a hard time staying off the Noah and trying to beat my personal best," Coach Johnson said. "My time in the gym has doubled because of the Noah Instant." Bailey is battling Gruenig to become the program's first Master shooter. Currently, both are consistently hitting Expert 4.
"When I first got on the Noah, I found out I was a flat shooter," said Bailey, who was a multipurpose guard in his playing days. "Like Coach Johnson, now I'm a gym rat with Noah."
With a pair of Noah Instants and committed student-athletes in almost every grade level, the future of Winamac Basketball appears strong.
"My past sixth grade season was pretty good," Koby Johnson said. "We went 9-0 and won our conference tournament. I am very excited about the future of Winamac Basketball. We have great coaches who will keep coaching us to do the best of our ability. I know our program will be successful in the years to come. Having NOAH will definitely help bring success to our team."
Koby's father added, "The best feature of Noah is the facts. You can make shots flat and high BUT you are going to make a lot more at 45 and 11!" Coach Johnson said.