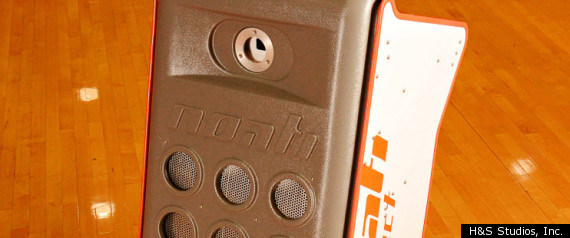 By: Jordan Schultz - Huffington Post
The original plan was merely to help his eighth-grade daughter with her flat basketball shot, but somehow Dwyane Wade, Jeremy Lin and the entire Gonzaga University men's basketball team ended up benefiting from Alan Marty's high-tech basketball contraption.
Formerly a guard at North Central College in Illinois, Marty is a 54-year-old former physics professor, Stanford MBA and currently a venture capitalist in the Silicon Valley.
"Name one player with a flat shot that ever fixed it. It just doesn't happen," Marty told The Huffington Post. "You can sit there for a while and maybe fix it for 10 minutes in one practice, but when they're in the game, they always go back to their old shot. The idea was to fundamentally change how people learn so that they can actually get better at ball control."
After months of research, Marty and a small team developed the Noah Shooting Machine. Its tag line reads: "Building the perfect arc." By snapping high-speed digital photographs, the device tracks the trajectory of each shot. The ideal score is a "45," for a 45-degree angle. Marty's data convinced him that this was the optimal arc of any shot.
According to Marty, Northern California was quickly buzzing about his shooting machine. Soon, then-general manager Chris Mullin of the Golden State Warriors -- considered one of the premier shooters of his generation -- purchased one for his club, as did the Dallas Mavericks.
"It's not magic," Marty says with the zeal of a salesman. "It goes back 12 years to fundamental neuroscience stuff that we did with Stanford. If you don't get the real-time feedback within a half a second for fine motor skills, it's essentially worthless."
Such "real-time feedback" led seven-time NBA All-Star Dwyane Wade to turn to Marty's product during the 2011-2012 season. The machine measured an arc of "40" on Wade's flat shots from the free-throw line. During the season, Wade told reporters that "[the Noah] is great for me and the guys because you can hear what number you're at when you make a shot" (see 3:14 mark in the linked video). After opening the season shooting just 71 percent from the line through January 25, Wade began practicing on the machine while rehabbing an injury. Eventually, he finished the season at 79 percent, the second-best mark of his career.
According to a 2003 article by USA Today, "the average free throw shooting percentage has hovered between 71 percent and 77 percent since 1955. Almost 16 percent of NBA final playoff games since 1952 have been won by one or two points, as have 17 percent of NCAA tournament games."
"The biggest thing coaches say over and over is, 'Lift the ball, shoot it up,'" John Welch, an assistant coach for the Denver Nuggets, told The Huffington Post. "We get tired of saying it; they get tired of hearing it. You can say it ten times and the ball flight doesn't change. They think they're lifting it but they're not. You put them on the Noah machine and they hear '39.' Well, their next shot is going to be 45. They react according to the objective data of Noah."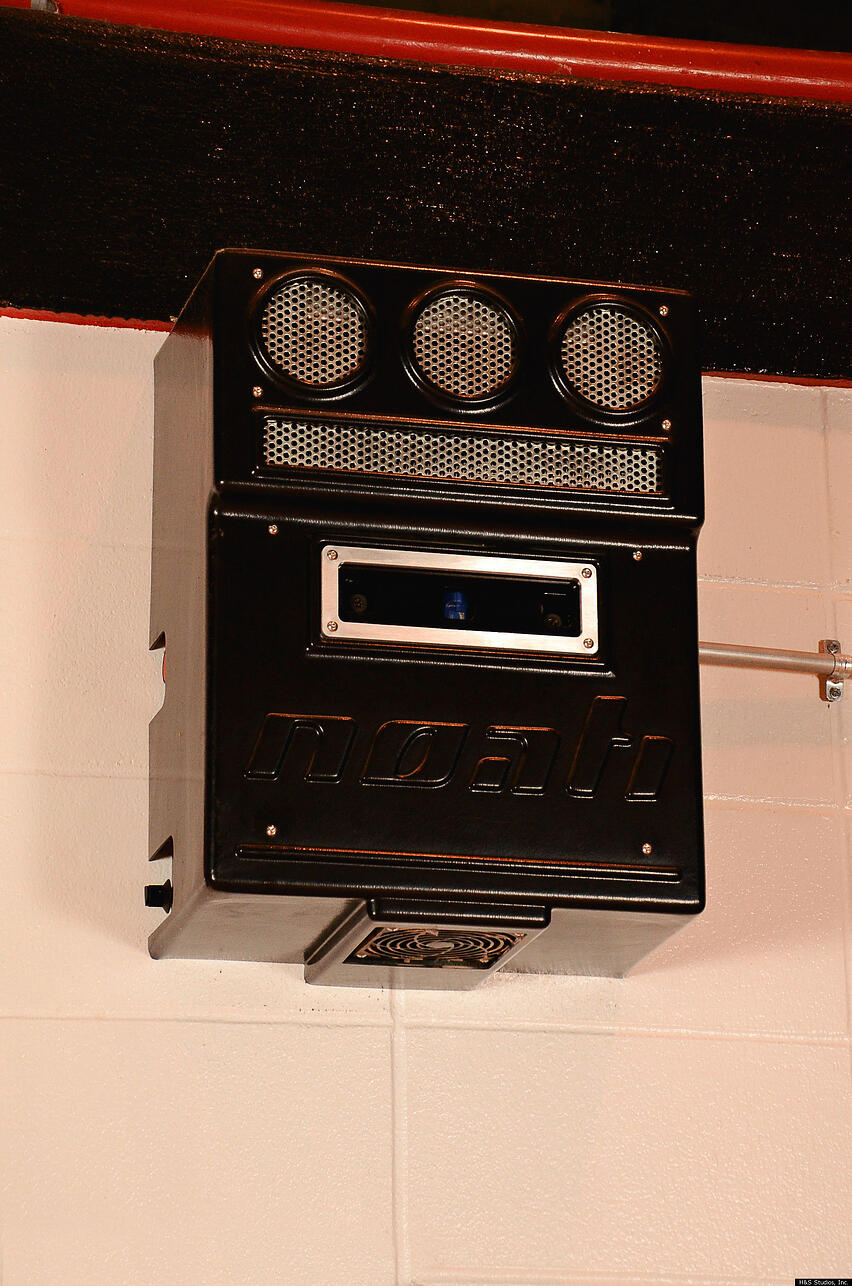 (The Noah Instant is the latest development. The product is permanently mounted and broadcasts the data so that a player can receive feedback via the "MyNoah" app, for iPhone, iPod Touch or iPad.)
Jerry Krause, an assistant coach for the Gonzaga Bulldogs and one of Noah's original researchers, credits the machine with helping former Gonzaga center Robert Sacre. One of the team's best players during the 2011-2012 season, the 7-foot center entered the program as a "rock shooter who couldn't find the basket as a freshman," according to Krause. During his first two seasons, he never shot better than 63 percent from the free-throw line. But in his final two years, he became one of the best free throw shooting big men in the country, hovering around 76 percent as a senior.
While no one would dispute the value of real-time feedback and consistent practice, there is far from universal agreement over Marty's contention that 45 degrees is the optimal shot arc. Welch's good friend Bob Tate, who is credited with transforming Jason Kidd's jump shot from a liability to a strength, does not agree that 45 degrees is the optimal shooting arc.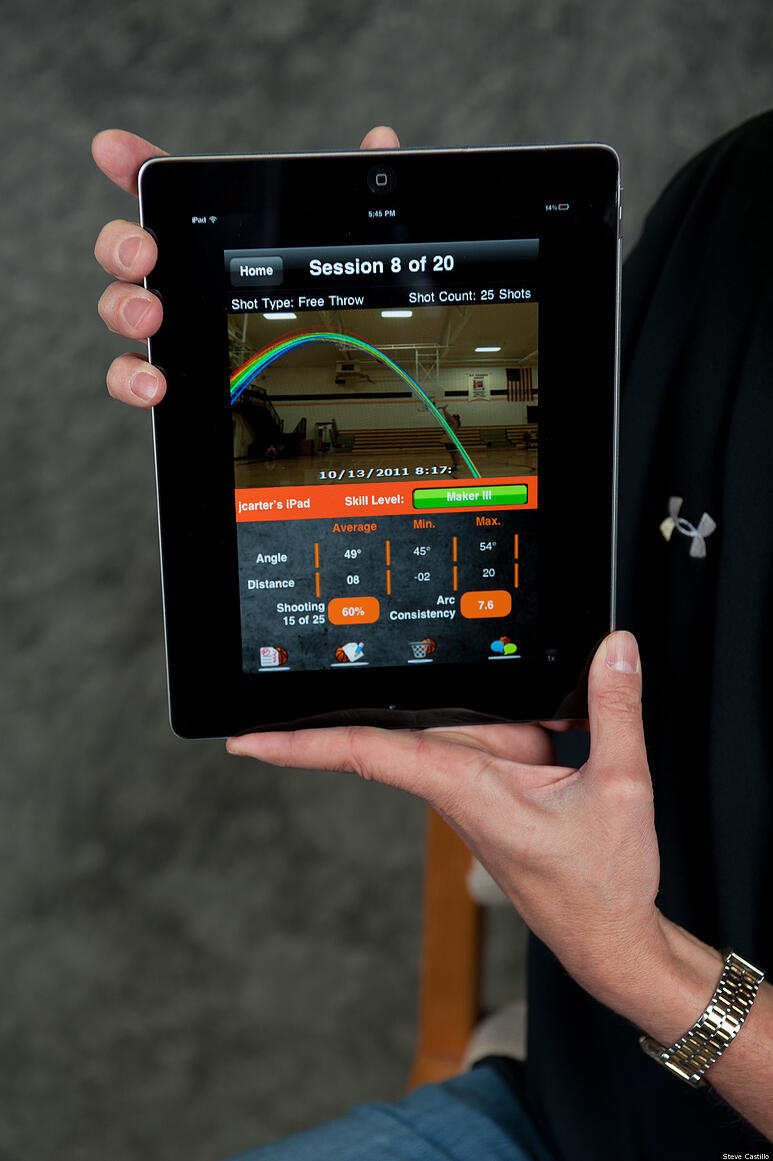 "The arc is an interesting debate," Welch says. "Bob believes in shooting the ball straight up in the air, basically. He believes in shooting it in an arc of 55 (degrees). I totally bought into his method because the ball swishes."
According to Welch, however, basketball's sweetest sound may not always translate to the highest success.
"The Noah team will explain with data that you will get more swishes with higher [arc peaks], but you won't get more makes," Welch explains. "There's a bigger swishable area, but a smaller makeable area."
Tom Nordland, a California-based shooting coach, also endorses a style vastly different from that conditioned by the Noah.
"[Noah] thinks there is a perfect arc, but there is no perfect arc," he says. "A guy that [worked with Tim Duncan on the Noah] told me that Tim kept denying it, saying '[My shot] can't be that flat.' It woke him up and had value. The same guy tested Dirk Nowitzki on the machine and his arc was in between 55 and 60 degrees."
It is of course hard to argue with whatever arc Nowitzki's shots were traveling along, since he led the Mavs to the 2011 NBA title over Wade's Heat. But if Wade finds himself standing at the line in a key moment come June, then he may have the chance to make a more emphatic statement on behalf of Noah than Marty ever could.