Why is Basketball shooting improvement so hard to achieve?
In my previous blog, I gave the startling statistic of how few high school basketball players are shooting with the correct entry arc and shot depth. Only 1 in 11 high school players are actually getting it right, allowing them to reach their full potential as a basketball shooter. No wonder so many high school games are decided by missed free throws.
Why is the problem so severe?
Here at Noah, we believe in our science that's been shaped over years of gathering data. There's no disputing the fact that correct entry arc and shot depth can easily improve basketball shooting by 10, 20, 30 or more percent. Think about how many more games your team can win by improving your free throw shooting by those percentages.
Unfortunately, correct basketball shooting is a difficult skill to teach. Most players progress to the varsity level with too flat or too high of a shot. They have built up muscle memory over years of playground and backyard shooting. Plus coaches tend to not focus their teaching on shot arc and depth because many are not aware of their impact.
Until we invented Noah, basketball players never knew exactly what entry arc and shot depth they were shooting. They just had to guess or use a broomstick. Yes, there was a coach who had his players shoot over a broomstick he held to try to get the correct arc.
Even if a player did know what arc and depth they were shooting through some manual measurement, like a broomstick, it is impossible to build the needed muscle memory to repeat the correct shot without accurate, objective, and very importantly, INSTANT feedback.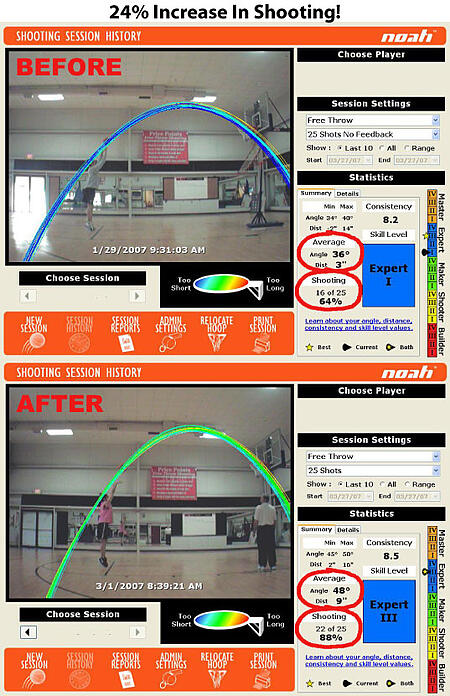 How to fix the problem?
We have countless testimonials from coaches and players who have benefitted from one of Noah's Basketball shooting aids. The one thing most of them have in common is they attended one of Noah's free Basketball Shooting Clinics.
That should be your first step. Our basketball shooting clinics are designed to educate players, coaches and fans on how to effectively increase and maintain basketball shooting percentages. Contact Noah to set up your free clinic.
Noah Basketball has helped many high school programs win conference and state championships. We've also boosted programs from a handful of wins to a team that competes for titles. Our coaches have told us Noah is like having another assistant on staff. Think how much you'll benefit with Noah serving as your shooting coach.
To end this blog, I'd like to hear from players, coaches and fans about the one that got away. Tell me about a game that you lost because of poor free throw shooting. Was it a one-point heartbreaker during a state tournament run? Was it free throw miss after free throw miss trying to put your rival away down the stretch? I'd love to hear from you.