Dallas Mavericks Shooting Coach Gary Boren and Noah Basketball
"I'm a free throw coach, Boren said, and I can now coach free throw shooting better than ever, by using Noah."
Dallas Mavericks Free Throw Shooting Coach Gary Boren has known about Noah for more than 10 years. Even back then, Boren had no reservations about the young basketball technology company and its Noah shooting system. "I wasn't skeptical about Noah, that's for sure," said Boren, who is the only free throw shooting coach employed by any NBA team. "It starts with the people running the company. I knew Alan Marty (Noah's inventor and Chairman of Noah Basketball) and shortly after that I met John Carter (Noah President & CEO). Once you get to know these guys, you quickly realize they are the genuine article. I saw that they were committed to making Noah better and better."
Indeed. Noah Basketball has improved over the years and now is on the verge of taking the NBA by storm. Boren predicts it will happen soon, since the Miami Heat, Denver Nuggets and Dallas Mavericks all now have the Noah Instant in their practice facilities. "That little dam will break, and every NBA team will want it," Boren said. "We are thrilled to have one in Dallas."
There are a couple of factors why the Noah system has not penetrated the NBA like it has the collegiate and high school ranks. The NBA world can be pretty cliquish, with coaches and staffs routinely changing from one team to another. Coaches have their systems and ways to do things. Coaches and change often don't go hand-in-hand. Also, the NBA is a players' league and those players must want to adopt new techniques to improve their games. "Over 600 million people play basketball worldwide," Boren said, "and only about 430 make it to the NBA. When they meet me, they think 'who is this bozo getting ready to talk to me about my shot? What if he makes me worse?" Working around that problem has been a challenge for Boren, but he said that having Noah makes it easier to convince players to accept instruction.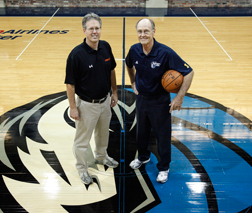 "The instant feedback is what convinces them of the value of Noah," Boren said. Boren gives players Noah's background and tells them that he has followed the progress of the company for years. Then he'll do a Noah session without the instant feedback, so the camera and computer can gather accurate information about the player's current shot. Next Boren will do a session with feedback to show them what they need to do to improve their shot. "We'll talk about whether they are shooting too flat, too high, or not deep enough in the basket," Boren said. At this point and from then on the player knows what must be done to improve his shot, and how to use Noah to help him do it.
Another Noah feature that the players like is the replay. They all want to see themselves, and the ability to provide instant replay of their shot is extremely valuable. The replay, in slow motion if desired, shows if the player is not all the way up to the line, is moving his head, is swaying back his upper body as he shoots, is pulling the string, is not fully extending his arm until the elbow is locked, is not holding the follow through long enough, etc. Most important, Boren can instantly show the players all of the above and much more, by simply walking to the sideline to the Maverick's Noah.
Boren is considered a pioneer in the field of free throw shooting, originally joining the Golden State Warriors in the 1993-94 season. After two years with the Warriors, he served the New York Knicks one season, then followed Don Nelson to Dallas. Since joining the Mavericks in 1997, Dallas has ranked either first or second for free throw shooting percentage in nine of the past 13 seasons, leading the league over that time span with an average of over 80 percent.
Dallas has qualified for the playoffs the past 12 seasons during which time the Mavericks have averaged 81.1 percent from the line, also a league leading average by a wide margin. In a 2003 road playoff game at San Antonio, the Mavericks missed the first free throw, then converted a record 49 free throws in a row. Making 49 of 50, they won the game by 3 points. The 49 straight is a record that may remain unchallenged forever, as it is rare that a team even takes 50 free throws in a game.
Boren is not bashful in telling NBA players about the value of Noah. Boren revealed that Dirk Nowitzki, one of the NBA's greatest forwards of all-time, loves shooting on the Noah Instant. "It was fun watching him use Noah for the first time," Boren said. "I'm standing there and listening to Noah saying 47, 47, 47, 48, 46, 47, etc. I could have told you that Dirk has a consistent arc, but without Noah, it would have been hard to prove."
Boren confirms that Mark Price is the greatest free-throw shooter he's ever seen. Price ranks first on the NBA's career free throw list with a 90.4 percent mark. Price owns a shooting lab in Atlanta where he has been teaching with a Noah for several years.
"What I know about shooting I learned from Mark's father, Denny Price," Boren said. "He was my mentor." In fact, it was Denny Price who helped Boren land in the NBA. Boren's story is one that he should be required to tell at every social gathering.
It was 1994, and Golden State coach Don Nelson was losing game after game because of his team's poor free throw shooting. Nelson asked his first assistant, Gregg Popovich, to contact "one of those shooting guys."
Many shooting instructors routinely send their resume and references to NBA coaches in hopes of getting a tryout. Boren's resume, with a reference letter from Denny Price among others, caught Popovich's eye. Popovich had great respect for Price. After a telephone interview, Popovich told Boren there was a ticket at the airport, and for him to meet the Warriors in Milwaukee that night. Boren told his wife he was going to Milwaukee and she said "What for?" "The Golden State Warriors want to interview me." She just shook her head, because all she had known at that time was that Boren was shooting a lot of free throws at the health club every day (500 per day for 13 months).
When Boren arrived in Milwaukee, he met the coaches at Nelson's favorite German restaurant, as Nelson had coached in the city for several years. Finally, Boren met with Nelson, and his assistants Popovich, Paul Pressey and Donnie Nelson in the coach's suite. "Nellie said 'tell us what you know.'" Boren then gave a shooting lesson in the hotel room on how to coach free throws from 10 p.m. until 1 a.m. At that point, Nelson told Boren he was hired, but that if it didn't work, he was going to fire him (this will now be Boren's 19th year in the NBA).
Coach Boren was now the Golden State Warriors new Free Throw Shooting Coach. However, the Warriors were on the first day of a 10-day road trip and Boren had packed clothes for one day. The next night, Boren was sitting on press row at midcourt in Chicago watching Michael Jordan and Scottie Pippen run the court five feet in front of him. He had made it in the NBA.
Boren came to Dallas when Nelson was hired as General Manager in 1997. He has since survived four Head Coaches and is now the longest serving, with one team, special player development coach in the NBA. In 2011, Boren was given an NBA Championship ring when the Mavericks prevailed over the Miami Heat. Complete Mavericks free throw statistics and references from other coaches that have brought Coach Boren in for clinics can be found on his website www.basketballshootinginstruction.com. On that website, a DVD How to Coach Free Throw Shooting can be obtained by going to www.championshipproductions.com. Anyone involved or friendly with Noah can buy the DVD at a substantial discount by entering the promotional code NOAH in the shopping cart.
Coach Boren also strongly endorses and promotes the Elk's "Hoop Shoot", a 40-year-old nationwide free throw shooting competition for boys and girls, ages 8 to 13. More than 3 million youngsters participate annually, and each year the six National Champions are honored at the Basketball Hall of Fame in Springfield, Massachusetts. The Elks cover the cost for participants and their families to travel to the State, Regional and National Championships. Please go to www.elks.org to learn more about that great service organization and their free throw shooting competition, the "Hoop Shoot."
Coach Boren expresses that he is honored and grateful to now be serving as National Spokesman for Noah. "I'm a free throw coach, Boren said, and I can now coach free throw shooting better than ever, by using Noah."