White Hall High School Tracks Shooting Improvements with Noah Community Website
"I started shooting on it, and I realized 'this is something that can really help basketball. I also realized that I didn't want any other school in our conference to have one." - Coach Marc Stringer
Throughout Arkansas for the past several years, White Hall High School has been known for its prowess with a bat and a ball. The Bulldogs have won the state championship in softball (2012 and 2013) and baseball (2012).
White Hall's success in those sports is why girls' basketball Coach Angie Looney thinks having not one, but two Noah Instants will raise the level of the basketball program in the coming years.
"Our kids play a lot of sports," said Looney, who coaches grades 7-9 girls basketball. "We want them to discover what sports they love, to excel, and be successful at many sports. That's why when we have them for basketball, we want to maximize our time and develop their game. We want to coach them to be better shooters. Noah helps us reach this goal."
It all started—of all places—at a baseball game. Coach Looney's son was playing in a tournament when one of his teammate's dads visited with her. The dad told Coach Looney about Noah, and they talked at length about the science, about the value of the basketball shooting system and about the testimonials from other high school programs.
To Coach Looney, who is also a science teacher, the 45 degrees arc and 11 inches depth concept made complete and logical sense.
"I discovered that Noah has a wealth of data to back up the 45/11 science," Coach Looney said. "Once we participated in the free clinic, I was sure Noah would help our basketball program immensely."
Boys' Varsity Basketball Coach Marc Stringer graduated in 2001 from White Hall where he played hoops for his father. Coach Stringer was a two-time all-state football and basketball player. He went on to compete in college football as an offensive lineman.
"My dad never really let me shoot much beyond 5 feet," Coach Stringer said. "I was a drop step, up-and-under, baby hook guy. I feel outside shooting is a lost art today. Everybody knows how to shoot, but not many do it correctly."
Coach Stringer watched a YouTube video of the Noah Instant. He wasn't completely sold until last August when Noah arrived and was set up. "I started shooting on it, and I realized 'this is something that can really help basketball,'" Coach Stringer said. "I also realized that I didn't want any other school in our conference to have one."
In August, White Hall students were still away for summer break, so the two coaches took advantage of the situation and started competing against each other.
"Our competition began with who could shoot more on Noah," Coach Looney said. "I would wake up early to get on it before he did. I would Tweet what I did and send out a photo of my arc plots. Next thing I knew, he was on it."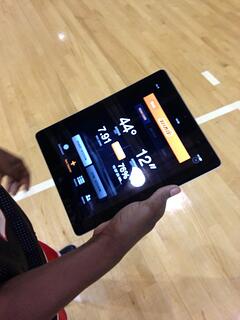 Coach Looney and Coach Stringer enjoyed keeping up with their competition on the My Noah App and the Noah Community Website.
"I would wake up and check out the Noah Community Website and see that she had shot 200 more times," Coach Stringer said. "Then I would have to sneak up there myself."
After more than 1,500 shots, Coach Looney holds the edge in highest average ranking. The pair fluctuated between Maker 4 and Expert 2. However, Coach Stringer has posted the higher ranking by reaching Expert 4 on one occasion.
"I think it's motivating for our kids to see us on the Noah Community Website and see how much we enjoy using it," Coach Looney said.
Coach Stringer requires his varsity players to shoot 200 free throws and 200 elbow shots per week on their own time before or after school. The coach also expects his players to maintain an average of Maker 4 for the week. If they don't, he adds 50 more shots.
"I use the Noah Community Website to keep up with our players' progress," Coach Stringer said. "The players know how to operate Noah, and they all have the app on their phones. I get challenges from them all the time. Who doesn't want to beat their coach?"
"I love the Noah Community Website," Coach Looney said. "I really do. I've never been a Tweeter before, but now I find myself Tweeting and posting arc plots to encourage the kids. The website is a great way to see the team's improvement."
The two coaches were so impressed that they realized they needed another Noah Instant for the middle school program. A new system arrived last October.
"It's very important to us to invest in our middle school program," Coach Stringer said. "It's our feeder program. We want to have the same terminology and consistency from top to bottom. We want all our kids to use Noah. That's how you build a basketball program."
The two coaches see all of White Hall hoops teams using Noah more extensively and effectively next season. "This is our first year on Noah," Coach Looney said. "We're learning every day new ways to use it. I foresee that we will really use it to our advantage in this upcoming offseason."
What about their friendly competition? "I hate to admit it, but Coach Looney is a little ahead of me," Coach Stringer said -"For now."
All photos were provided by Coach Marc Stringer. A Special thanks to Coach Looney, Coach Stringer, and White Hall High School.